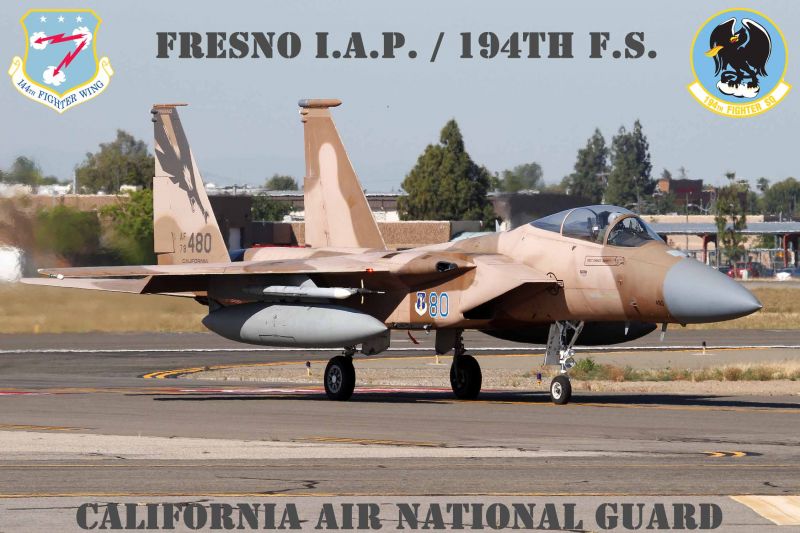 The 194th Fighter Squadron is a unit of the California Air National Guard's 144th Fighter Wing at Fresno Air National Guard Base, California. The 194th is equipped with the F-15 Eagle and like its parent wing, is operationally-gained within the active U.S. Air Force by the Air Combat Command (ACC).
After flying the F-86, F-102, F-106 and F-4D between 1954 and 1989 the 194th Fighter Interceptor Squadron entered the modern era in 1989 with the delivery with the F-16A. The squadron started receiving their first F-16A Fighting Falcons on 1 October 1989. These were of the block 15 type, replacing the F-4D in the air defense and attack roles. The block 15 airframes weren't exactly suited to the dedicated air defense mission the squadron was tasked to. This was fixed with the Air Defense Fighter (ADF) upgrade these aircraft received during 1990.
Effective 16 March 1992, the 144th Fighter Interceptor Wing was redesignated as the 144th Fighter Wing (144th FW), with all related Fighter Interceptor Groups and Squadrons becoming Fighter Groups and Fighter Squadrons. On 1 June 1992, the 144th FW was reassigned to Air Combat Command. In 1995 the squadron transitioned to the more F-16C Fighting Falcon block 25 aircraft. After having flown for 11 years with the block 25 airframes, a number of those came to the end of their operational lifespan. It was therefore decided that the airframes of the 194th FS were to be replaced with F-16C Block 32 aircraft. The conversion to these block 32 models started in December 2006 and was gradually completed by the end of 2007.
On May 31, 2013, the United States Air Force signed the ROD (Record Of Decision) for the F-15 Aircraft Conversion for the 144th Fighter Wing, California Air National Guard at Fresno-Yosemite International Airport. The 144th Fighter Wing started the conversion process to F-15C Eagles from the 120th Fighter Wing of the Montana Air National Guard with the arrival of the first of 21 F-15s on 18 June 2013, being the 84-0014 flown by Maj. Jon Burd. The last F-16 departed the 144th Fighter Wing on 7 November 2013, destinged for 162nd Fighter Wing.